An exhibition of my recent work titled: "Mike Lyon: Large Scale Drawings and Woodblock Prints" runs September 1, through October 21, 2006 at Sherry Leedy Contemporary Art, 2004 Baltimore, Kansas City, Missouri. Opening: 7-9 pm First Friday, September 1, 2006, hours 11-5 Tue through Saturday, 816-221=2626. Here's the gallery's mailer (folds are in the mailer, not the drawing):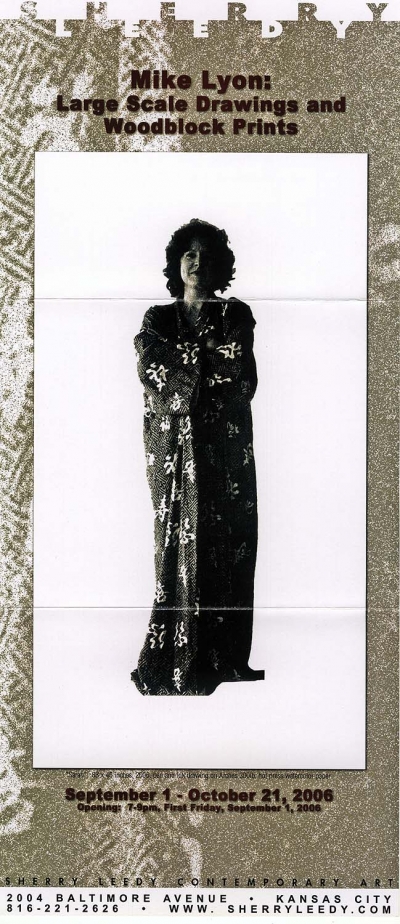 The opening Friday, September 1 of "Mike Lyon: Large Scale Drawings and Woodblock Prints" was a pretty humongous party! I suppose more than 600 people passed through the gallery that evening between 7 when the doors were unlocked and about 9:40 when Sherry Leedy shooed the last of us out the door. I saw MANY old friends which was just wonderful.
my VERY old friend (when I lived in New York, I occasionally walked him to pre-school), the now best selling author
Seth Mnookin
and his friend (they later married) Sara visited the next day while they were in town for a wedding and it was great to touch base again (photo: Jennifer Bowerman)
My 1974-1975 painting instructor, retired chair of the Kansas City Art Institute's painting department, Wilbur Niewald, was there — he just returned from a Guggenheim Fellowship spent painting in the Southwest US. He had the most wonderful time and we've got a dinner planned to find out all about it. Wilbur's close friend, another retired painting professor at the Art Institute, Michael Walling was there and bought my "Fixing Hair" print. That was very nice.
Another KCAI retired faculty member, Victor Babu (of ceramics fame) visited and really seemed to love EVERYthing! He's an enthusuiastic guy and characterized my big "Sara" reclining nude woodcut this way: "Omenish, very very omenish — the deep-deep-darks and the figure turned away — as if she's sad or angry and maybe she's talking about it — but what's she saying? She's rolled away up there but there's that comfortable knitted thing up front — it's soft, but she's turned away from the comfort thing and us and all those deep blues — oh-menish… very VERY oh-menish!" — I asked him to please write my artist's statement! (ha, ha)!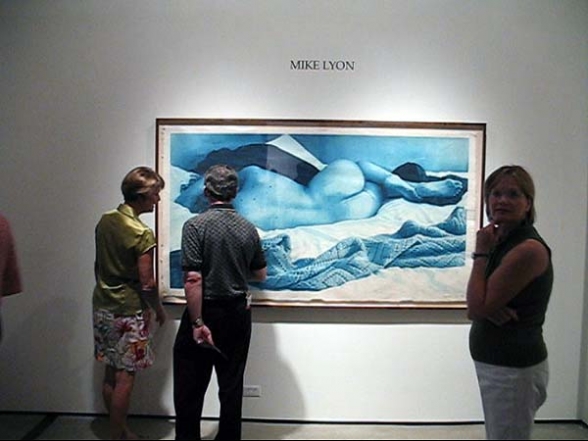 The director of the Kemper Museum, Rachel Blackburn, was there and bought the big "Sarah" drawing for their permanent collection. That felt great, I can tell you! Doug Freed, Director of the Daum Museum was there earlier with Dr. Daum and bought bought the big "Jon" drawing for their permanent collection! Wow and double-WOW! Very validating to me that these two excellent regional contemporary art museums stepped up and collected my most recent work on opening day!
The place was a veritable BUZZ of activity all night long — people pressing their noses right up against the prints and drawings, pointing and talking and it all seemed very energetic and positive! Now I've settled down a bit and am waiting for post-partum depression to overwhelm me!