Today, after 11 days non-stop drawing, I completed a large pen and ink drawing of Linda which sorta 'marries' my long interest in tiles and spirals with the squiggly cross-hatched drawings of recent years. I think it's pretty successful and depicts my angelic wife (who doesn't much mind my long hours in studio) with a vast halo – inspired mostly by Claude Mellan's 1649 'Sudarium' engraving (thanks to Jerry Vegder for showing it to me), to Ken Knowlton whose ca 1966 line-printed nude blew me away in the computer lab at the U of PA when I first saw it there in 1969, and to Chuck Close whose large gridded pencil drawn self-portrait shocked me at the Museum of Modern Art in New York around 1973.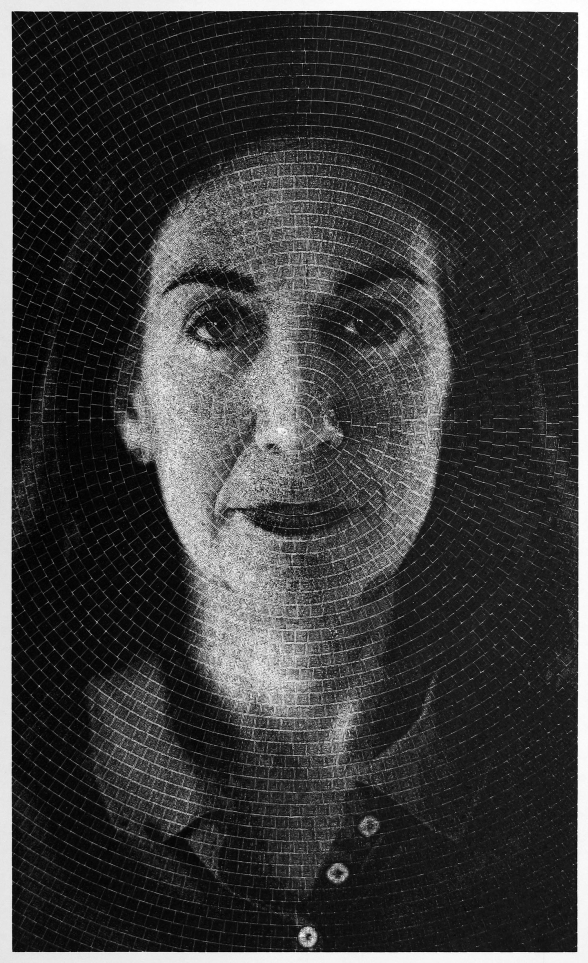 So the 'Linda' drawing combines some new and some old ideas and techniques. For whatever it's worth, I have been intensely interested in 'new' ways to communicate image and in process. I am so highly entertained for days on end by the various means at my disposal to precipitate thoughts and ideas into 'reality' — from my 'mind' in this instance to ink on paper! From abstraction to object and, it seems to me, so very directly! Process is relatively easy to discuss — aesthetics nearly impossible, so although 'image' is extremely important to me, the underlying process of 'choosing' my images is mainly unconscious or 'felt' and I just don't have a clue how to talk about that. Process for me, however, is conscious and so easier to communicate. I suppose my images of people and other stuff will have to speak for themselves (LOL)!
Late in 2004 I began to think about the 'spiral'. Spirals seem so… Infinite! Difficult to contemplate! Contracting to the infinitessimal, expanding to the infinite, mind boggling to construct and control! My great friend, Jerry Vegder, saw images of my earliest 'machine drawings' and pointed me to a Claude Mellan (1598-1688) 'Head of Christ, Sudarium' engraved in 1649.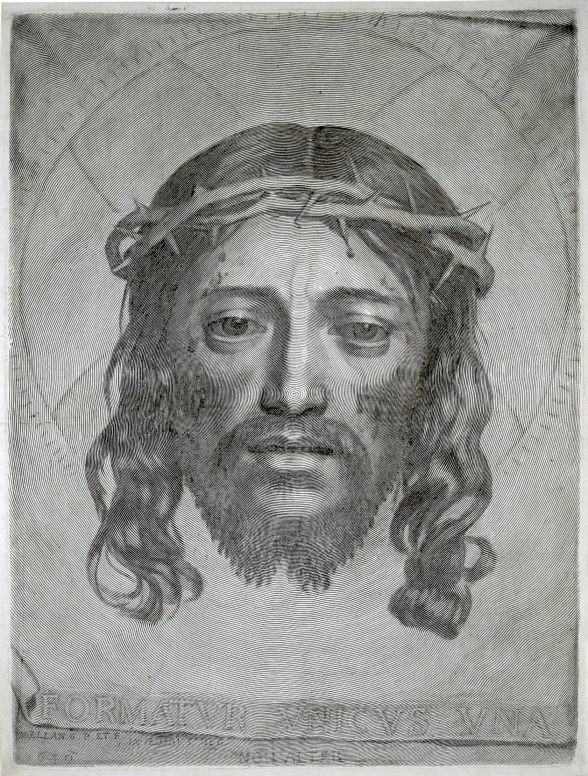 Now doesn't this just drive you MAD? I mean, it's quite a trick to hand engrave an image like this, a single line spiraling out from the nose with the width varied to produce the various values in the image, but HOW can one define such a procedure? After worrying this over for a while (four years?), I believe that I now have it all worked out! Although generating a list of movement commands to produce a spiral of any dimensions and number of rotations was quite a stretch for me (a simple interative application of trigonometric functions readily available in worksheets and programming languages), to really prove to myself that I had it more or less under control, I designed 'Linda' of spirals within spirals — approximately 3,300 'square' tiles (each tile approximately 1×1 inches) pave a spiral in my 'Linda' drawing, and each of them is itself 'spiraled' to produce the values which eventually read to the mind and eye as a person's face.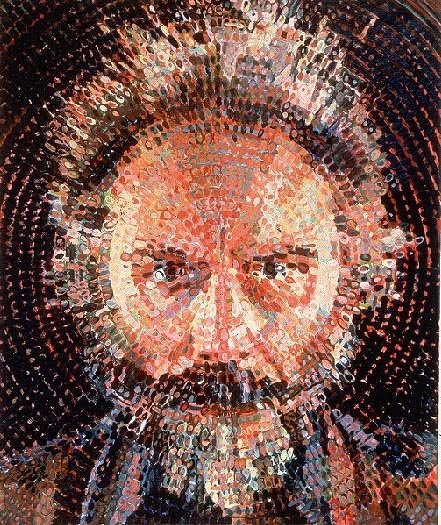 Although I 'tried' to constrain my drawing inside the 'tiles' in order to leave a very narrow undrawn margin around each (I considered painting these margins with narrow lines of size and then gold leaving prior to drawing, but that seemed risky as Hell for a first attempt and I decided to leave that for a future work), but I required over 12,000,000 lines of movement code and there were many small errors in my calculations, so the drawing is (aren't they all?) imperfect and the margins between tiles vary because a 'few' of my drawing lines escaped the tile boundaries from time to time.
Still, it boggles my mind to consider that this drawing (and most drawings, really) are produced moment to moment, the tip of the pen rolling from place to place leaving its slender black track as evidence of a long meander.
The image was designed in 10 layers as if it were a reduction print, beginning with the darkest areas in the image, each subsequent layer is ligher in value and includes the areas covered by previous (darker) layers.

(short video showing darkest layer of drawing underway)
You can see (if you watch the video above) that the darkest layer is drawn with the lines 'spiraling' very close together. Each subsequent layer is drawn the same way, except the distance between lines increases as lighter and ligher value layers are drawn. In this way, the values in the image are produced by cross-hatching, in this case the lines are all variations on the spiral theme!