Mike Lyon: Post-Digital Prints and Drawings March 1 – April 27, 2013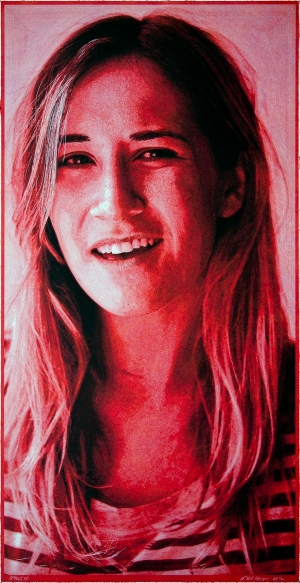 Maggie, 2012 85.5 x 44 inches white a& black ink on pigment-tinted watercolor paper
Until the early 1990's I was all about the eye-hand coordination required to draw and paint visually (paint what you see). Then I became intensely curious about how image was communicated through the marks I made. I began employing automated procedures and, eventually, electromechanical tools – many of my own design and construction. I continue to be fascinated by marks and mark-making, pattern, aesthetics, the past, and the location of meaning." – Mike Lyon
Mike Lyon is in equal parts a serious and dedicated student of both Japanese art and culture and 21st Century computer technology. Through his large-scale pen and ink drawings and woodblock prints, he pays homage to the past while being firmly rooted in the present. The tools Lyon employs to create his delicate and beautiful images are reductive digital photography, skillful use of computers and automated inventions of his own design. Lyon's finely made works on paper consist of rhythmic meandering lines and patterns, that refine and merge Eastern and Western artistic traditions in innovative and mindful methods to construct a body of work that is provocative and powerful and seems entirely new. Mike Lyon has exhibited extensively nationally and internationally including Katonah Museum of Art, Katonah, New York; Anderson Ranch Arts Center, Aspen, CO; Abercrombie Gallery, Lake Charles, LA; Burns Atrium Gallery, Union College, Schenectady, NY; The Center for Contemporary Printmaking, Norwalk, CT; Spencer Museum of Art, Lawrence, KS; Florida Printmakers Society, Tampa, FL; Gallery of the Quebec Printmakers Council, Montreal, Quebec, Canada; Tokyo, Japan; Gallery EZOSHI, Kyoto Japan; Yad LeBanim Gallery, Tiberias, Israel; Horncastle College, Lincolnshire, UK and others. His work is in the permanent collections of the Daum Museum of Contemporary Art, Sedalia, MO; the Kemper Museum of Contemporary Art, Kansas City, MO; The Marianna Kistler Beach Museum of Art, Manhattan, KS.
Sherry Leedy Contemporary Art 2004 Baltimore Avenue Kansas City, Missouri, 64108 816-221-2626 sherryleedy.com
In preparation for the exhibition, I built a scale model of the gallery and printed scale model artwork which I hung in the model. I made a gift of the model to Sherry when the show opened. It breaks apart like a doll house – the walls fit nicely into grooves in the base, and a top piece locks everything together. It's pretty sweet!
Photos taken during the opening: