I had this confusing idea about somehow showing my code in a drawing. The drawing would be a self-portrait and the text that piled up to communicate the image would be the code that the pen followed in order to draw the text that made the image. A very circular process. You can read about my first efforts are outlined at "First textual drawings". Like trying to lift myself by pulling up my pants, I wrote code that draws itself in such a way that the text piles up to communicate a reference image. I am the subject of the reference images used in these drawings in order to produce these iteratively self-referential self-portraits. The printout of the code I created is the image of the creator himself. Or something. Even I have a hard time following my own logic.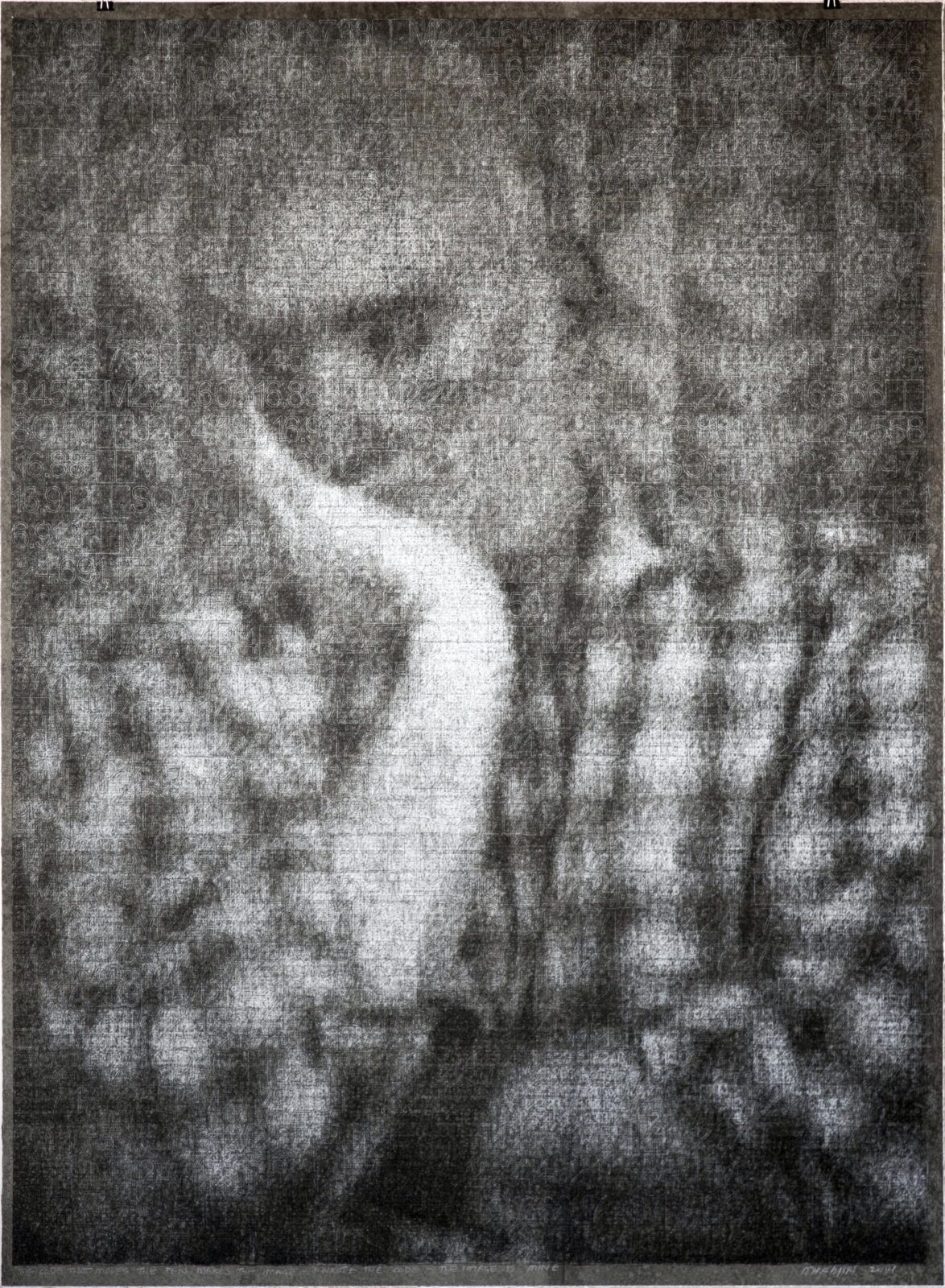 The large drawing above, titled, "The code that moves the pen that makes the image – I wrote the code – the image is mine" was exhibited
Kenilworth Square East Gallery at University of Wisconsin, Milwaukee, WI "Assimilation", May, 2016
Epsten Gallery, Overland Park, KS National Juried Exhibition, "Fresh: KCAI Alumni" Aug 28 – Oct 23, 2016
Salina Art Center, Salina, KS "The XYZs of Post-Digital Gesture: Drawings & Prints by Mike Lyon" January 18 – April 16, 2017
Sherry Leedy Contemporary Art, Kansas City, MO "The Summer Invitational" June 2nd – August 19th, 2017
Nelson Atkins Museum of Art, Kansas City, MO "Unexpected Encounters" June 2 – August 12, 2018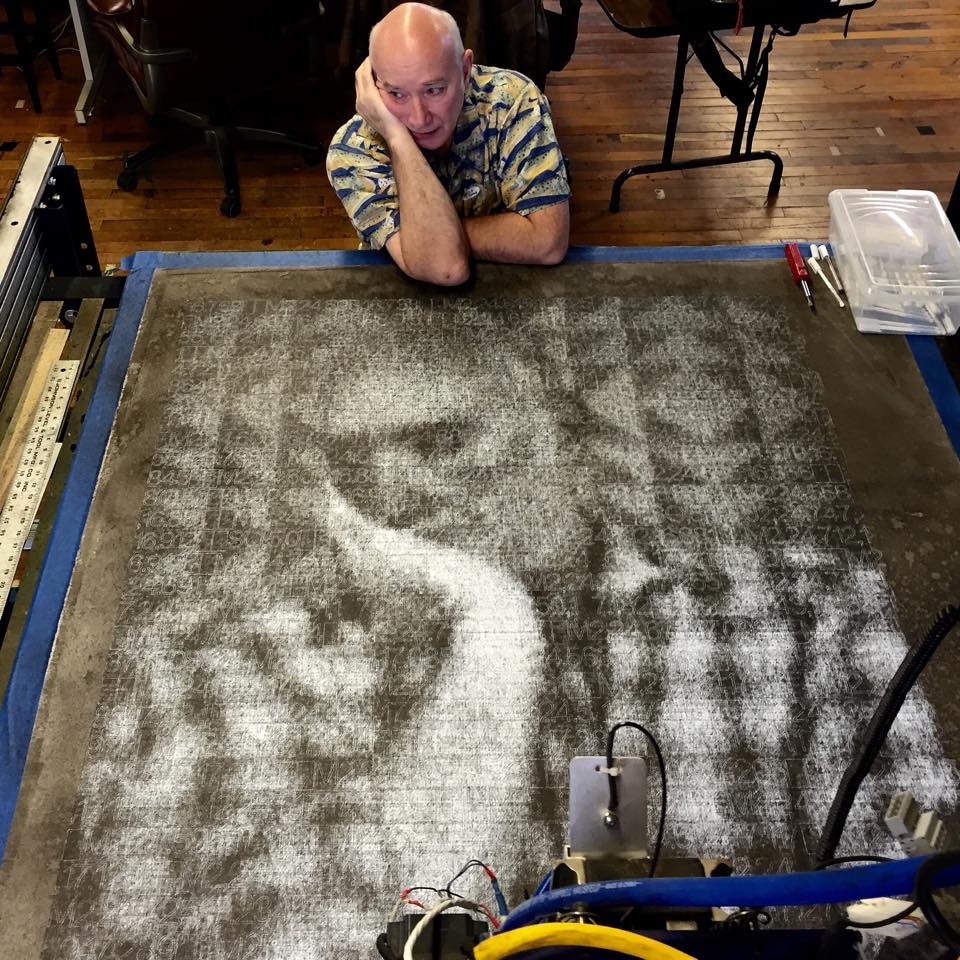 The drawing was purchased in August, 2017 by Sandy and Christine Kemper who made a generous gift of it to the Nelson-Atkins Museum of Art late in 2017. The Nelson included it in their "Unexpected Encounters" which highlighted significant acquisitions of the last decade. The exhibition recognized the many incredible donors that made the growth of the museum's collection possible and highlighted the museum's dedication to strengthening its holdings of exceptional art.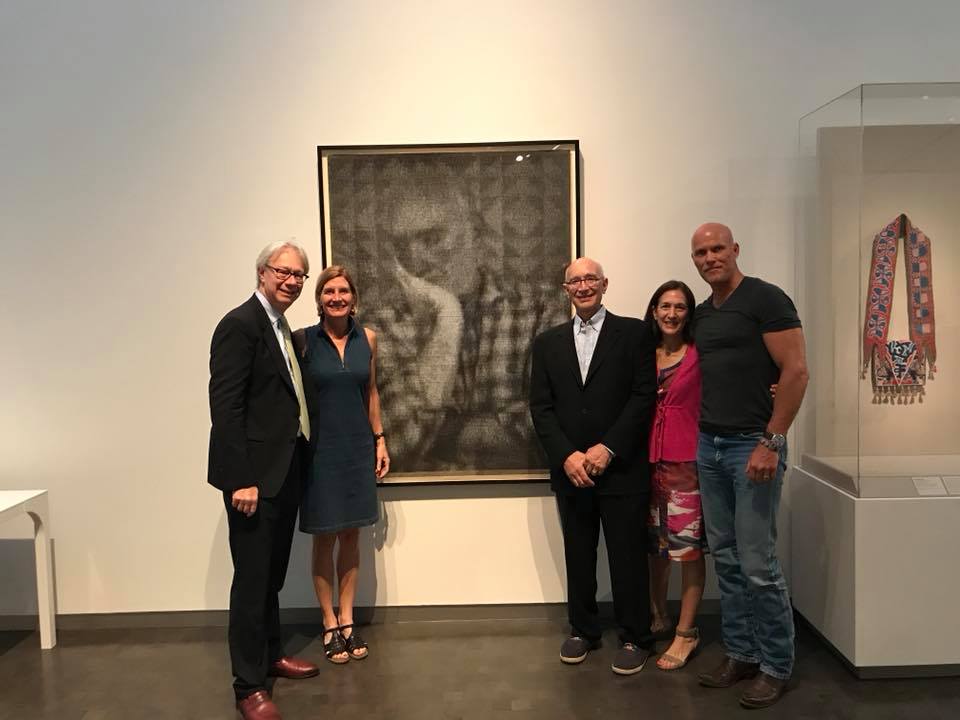 After suffering some mild criticism from digital art pioneer, Jean-Pierre Hebert, that I ought to have built my image from the code _I_ had actually written (rather than the code my code had generated), I re-coded my program a bit to allow it to follow the source code rather than the machine code and produced the following (which I imagine Jean-Pierre found similarly unimpressive):