My untitled self portrait for a print exchange exhibited at Southern Graphics Council 2019 in Dallas.
Description of processes
A print is an image made from a matrix. The matrix is typically an intaglio plate, relief block, lithographic surface, or stencil. The matrix can produce a quantity of like images. The matrix for my edition is a program of more than twenty thousand instructions which dictate the movements of a machine with archival pigmented ink pens attached. I wrote a special program in about 400 lines of Visual Studio code to produce this matrix. My code creates movement instructions to produce drawings composed of rectangular spirals. My code accepts parameters at runtime and outputs a text file of machine movement instructions (the matrix). The parameters include the location of the reference image file to be processed, the dimensions of the drawing to be produced, the dimensions and spacing of the marks which comprise the drawing, the maximum density of those marks, whether the ink is light or dark relative to the drawing surface, etc. The given parameters govern the way the program calculates the machine movement instructions. The idea is to approximately reproduce a reference image by casting spirals whose density varies relative to the average value of the corresponding area of the reference image.
Each drawing in the edition is composed of 1,801 individual spirals, each drawn in yellow, red, blue, black, or white ink. To my eye, the spirals create a satisfyingly complex abstraction while simultaneously communicating a portrait of the artist in great concentration, eyes closed, head in hand.
Why is it difficult to photograph and show at 72dpi
Each print in my edition is an original pen and ink drawing in five colors. The pens create shallow furrows as they are drawn over the paper and the inks themselves have some thickness, especially the white ink which stands out markedly (pun intended) from the surface of the paper. The marks are less than 1/72nd inch wide, so it really is impossible to reproduce the drawings accurately at 72dpi.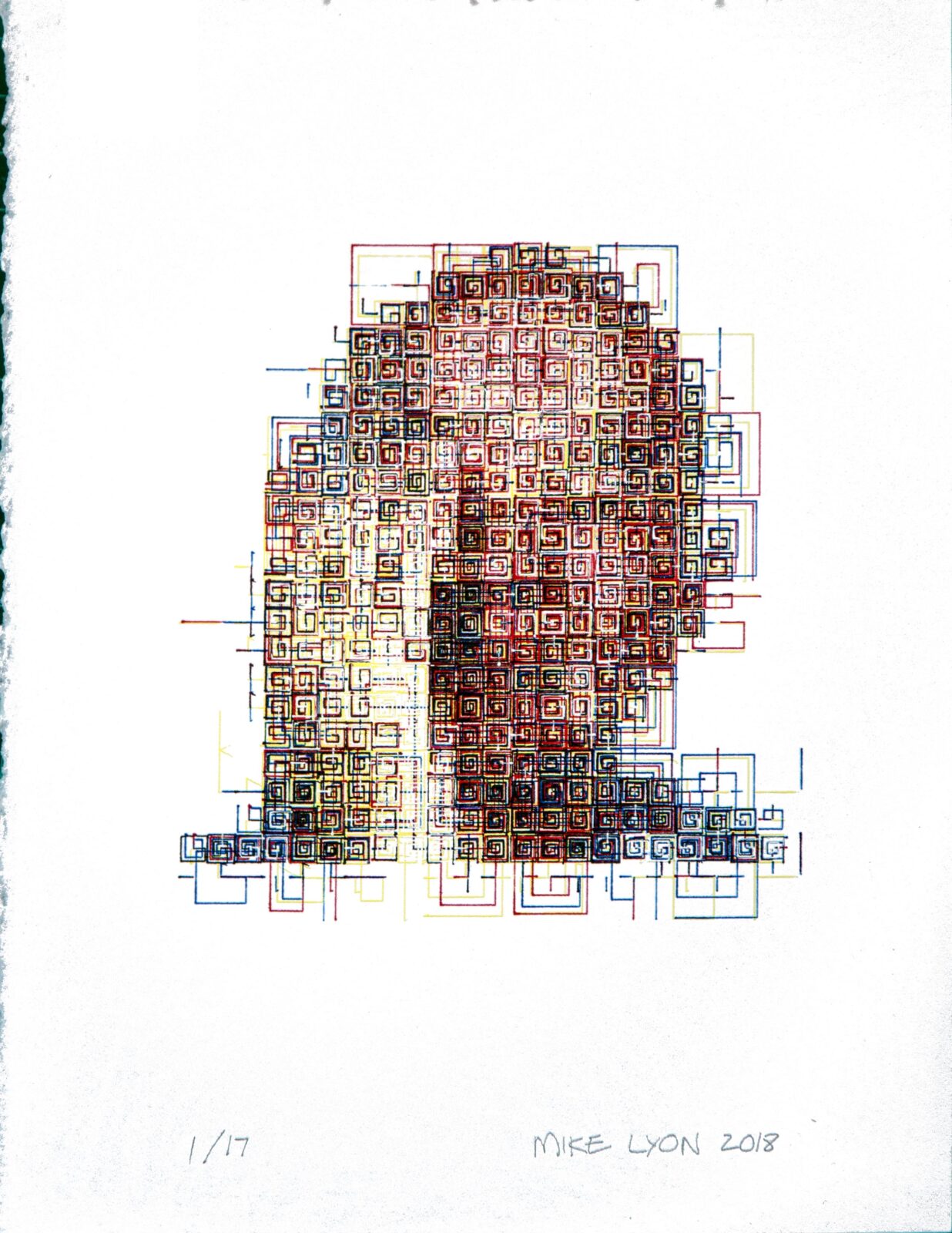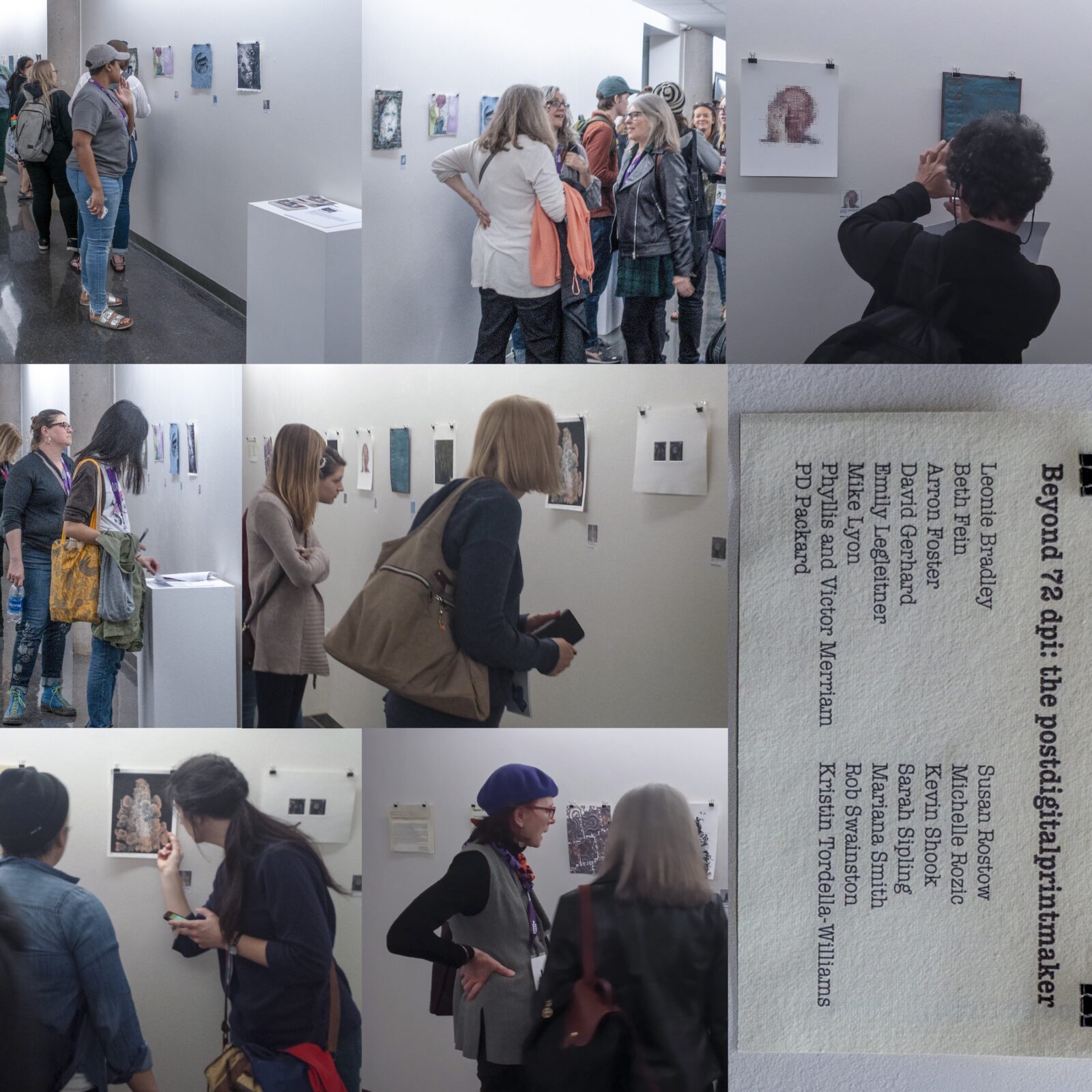 We are looking for a piece that has a physical aspect such as layering or texture that can really only be fully appreciated in person – we are asking each artist to writs a brief statement that explains that aspect of their piece.  The portfolio will be on view for the entire conference and afterwards.

We will display the print accompanied by a 2" X 2" jpeg of the piece that will be sent by the artist as well as their statement.  We will distribute the portfolio as a book which will include the artists' statements and jpeg so that it can be handled and appreciated after the show is over.   We will post the portfolio on our blog and Instagram to complete the circle back to 72 dpi.   The portfolio will be limited to 15 works. 

Edition size: 17 (15 participants, 1 copy for SGCI Archives, 1 display copy)

Paper Size: 8.5" x 11"

A statement as to why you feel your work is not adequately represented in a 72 dpi jpeg. This statement should also discuss how you combine digital and traditional printmaking techniques.

Website and other social media information

Looking forward to hearing from you,

— Phyllis and Victor Merriam, thepostdigitalprintmaker
Participating artists:
Leonie Bradley – London artist, editor of Printmaking Today
Beth Fein – Artist, California
Arron Foster – Visiting Asst. Professor, Kent State University
David Gerhard – Visual Arts Dept. Chair, South Carolina Governor's School for the Arts and Humanities
Emily Legleitner – BFA student at the Stamps School, University of Michigan
Mike Lyon- Artist, Kansas City, Missouri
Phyllis and Victor Merriam- thepostdigitalprintmaker
PD Packard- Printmaker, Brooklyn, NY
Susan Rostow- NYC artist, developer of Akua Ink
Michelle Rozic– Assoc. Professor, Dept. of Art, California State University at Northridge
Kevin Shook– Associate Professor of Art, Birmingham-Southern College
Sarah Sipling – Asst. Professor of Printmaking and Photography, Northwest Missouri State University
Mariana Smith – Asst. Professor of Art, Stockton University, NJ
Rob Swainston – Founder Prints of Darkness, Asst. Professor of Art and Design, Purchase College SUNY
Kristen Tordella-Williams – Asst. Professor Millsaps College Jackson, Mississipi