From KC Studio Magazine September 18, 2019
Last February, artist Mike Lyon agreed to co-curate "Look Me in the Eye: Portraits of Kansas City," which is scheduled to run Sept. 15 through Nov. 29 at Village Shalom's Epsten Gallery in Leawood.
Lyon and co-curator Elisabeth Kirsch, an art historian and longtime art critic who contributes to "KC Studio," know lots of artists they could recruit to enter the show. But the exhibit is meant to convey Kansas City's diversity, and the curators wanted to attract a diverse group of artists.
To that end, Lyon made arrangements with Call For Entry to get the word out and take charge of artist applications for the exhibit. "I wanted to reach a larger number of submitters," he said. "I wanted artists whom neither Elisabeth nor I might know."
Call For Entry, also known as CaFÉ, is an online tool operated by the nonprofit Western States Arts Federation based in Denver. With a network of more than 130,000 active artists, it features approximately 170 art venue call listings at any given time.
Artists can sign up with Call For Entry and create a portfolio for free. "You upload images according to their specifications," Lyon said. "Once you've got some work up that you want to use in an application, you can apply to any of the calls you qualify for."
Application fees vary from venue to venue. Some venues don't charge artists anything to apply. Artists applying to enter the "Look Me in the Eye" show paid $15 to submit three works of art.
"If you apply and you're accepted, it's pretty good," Lyon said. "You're in a show, and your work is published in a printed catalogue, which the artist gets a copy of."
On its website, Call For Entry says, "when you apply to a call for entry and pay for your entry fee through CaFÉ, we are collecting the money and distributing the funds to the arts organization. In all cases, except for the calls that do not charge artists to apply, you are paying a fee to be juried and/or for your application to be processed by the event; this does not guarantee your acceptance into the event. Application entry fees are almost always non-refundable, but in the event the show makes an exception, refund requests must come directly from the arts organization."
Lyon has submitted applications to enter his art works in several exhibitions through Call For Entry, beginning around 2004-2005. "I applied to a big show in New Jersey that I got into, and I applied to a show at the Abercrombie Gallery in Lake Charles, Louisiana, where I won the first prize," he said. "And through those calls I established a few relationships with curators. It's always good to extend your circle."
Kansas City artist Kim Lindaberry said that out of the 10 times he has used Call For Entry to apply to exhibitions, he has been accepted twice. "It's not a magic bullet," he said. "It doesn't necessarily get you into a show. Not everybody is going to like your artwork. It helps you find shows."
Lindaberry likes the research capabilities of Call For Entry's search engine. "You can search for specific states, local calls, regional calls. You can search from one end of the country to the other."
Artists can focus their search on a specific art form or specific types of venues, and research the organizations accepting applications, Lindaberry said. "As an artist, you have to determine what's worth spending your money on. There are an awful lot of calls I could apply to, but I have to look at the cost-effectiveness of it."
For example, Lindaberry recently researched a California gallery that put out an open call for exhibition entries. The application fee was "pricey," he said. "I thought I'd love to get something in a show in California. But when I did some research into the gallery, I saw that it was no bigger than my studio, and the walls were fake wood paneling. I would never want my work to be seen in that gallery."
Lindaberry said most exhibitions that he's aware of nowadays require artists to apply through Call For Entry or some other online portal, such as Submittable. "You can't just email them or get a form and mail it in. If you really want to get your work out there and you want to see as many calls as possible, you should join several portals."
There also is a cost to venues for using Call For Entry. Lyon said the Epsten Gallery was paying Call For Entry $450 to set up the "Look Me in the Eye" call, plus some incidental costs.
Lyon said he was happy with how the arrangement with Call For Entry was working out. "Frequently, the pathway for an artist entering his or her work in a show revolves around who knows them. If you're outside that circle, you're never considered. This kind of a democratic process allows people outside my circle and Elisabeth's circle to apply and be considered."
About The Author: Julius Karash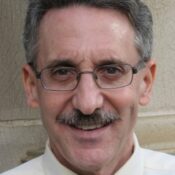 Julius A. Karash is a freelance writer, editor and public relations person. He formerly was a business reporter for the Kansas City Star and executive editor of KC Business magazine. He devours business and economic news, and is keenly interested in the relationship between arts and economic development in the Kansas City area.